Missions
We help you equip the children you work with to follow Jesus!
Our hearts break for children with limited resources to help them grow in their faith in Jesus Christ.
We provide curriculum that will translate across context and culture and get to the heart of every child.
What People Are Saying About A Heart Like Jesus A-Z
"The curriculum is so easy to use and really keeps the kids engaged and learning about Jesus' character. I have loved using A Heart Like Jesus and will continue to use it for years to come!


Marifer
Assistant Director
Lighthouse Community Outreach
"I have used A Heart Like Jesus A-Z curriculum for several summers with a kids' club program through the food pantry at my church. The curriculum makes lesson planning easy for my team, and the content is fun and engaging for the kids. I love how each lesson points the kids to Jesus."
Amy
Kids Club Director
"We enjoyed every letter of this curriculum with our neighborhood bible kids club! Before we knew it, the children were memorizing the specific verses and proudly reciting them to us!! I can still hear my own daughters using Joshua 1:9 "Be strong and brave, do not be afraid. The Lord goes with you wherever you go!" Joshua 1:9.
Kristen
Ministry Team Leader
Lighthouse Community Outreach
So many children around the world lack access to resources that bring Jesus directly into their culture and unique situation.
This can leave mission leaders feeling overwhelmed and concerned about the children they are called to reach.
We provide curriculum that translates across contexts and reaches the heart of every child.
We also provide opportunities for our curriculum to be translated into other languages and contexts, and we believe that our focus on having a heart like Jesus provides a meaningful message all children, no matter language, culture, or context can benefit from.
Download Free Sample Lesson
How We Reach the Heart of Your Children
We focus on TRAINING THE HEART
Cultivating a love for Jesus, so children will naturally want to be like Him, rather than

trying to be good out of obligation or to please others.


Cultivating a need for Jesus, so children will rely on the Holy Spirit to display Christ-like character, rather than trying to be good in their own strength.
Children Will...
Fall in love with who Jesus is
Desire to be like Jesus
Realize their need for a Savior and dependence on God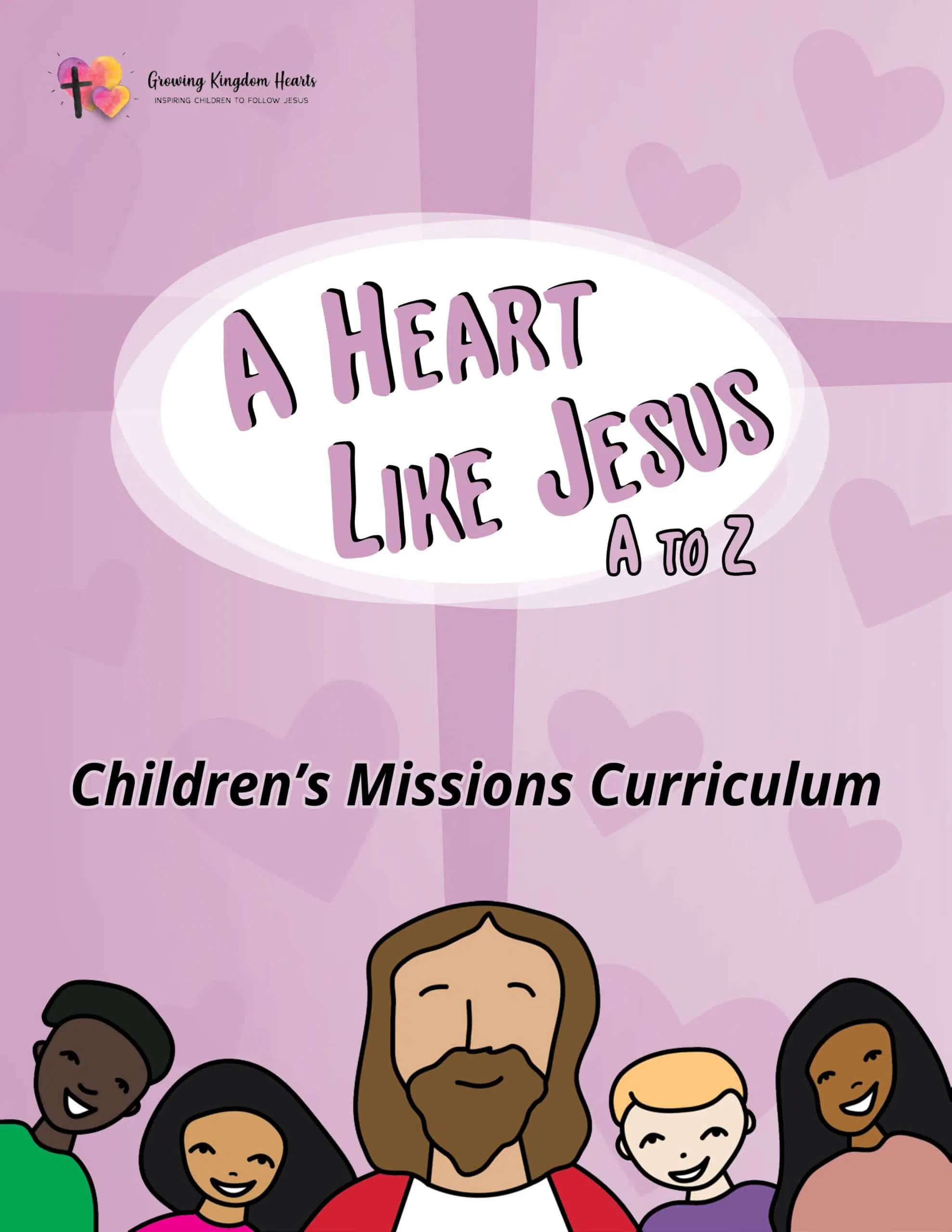 How the Goals are Accomplished
Learn 29 character traits of Jesus' beautiful heart from God's Word
Memorize 30 scripture verses to hide God's Word in their heart
Be given the opportunity to hear and receive the gospel each week
Realize how to depend on God by asking for His help in prayer
Learn to apply God's Word through puppet shows, scenarios, and family discipleship activities
Any ministry desiring to use this curriculum for local or world missions outside of the church, for example after school programs, neighborhood kids clubs, and orphanages.
A Heart Like Jesus A-Z has lesson components for children Pre-K through 8th grade. It is all-inclusive and easy to pull out the materials for the age-groups you need! Small group lessons are divided by age level, making it engaging and very applicable for even older children! Large group time is primarily for preschool and elementary ages, but it can be easily adapted for older children. Older children will also enjoy leading the younger children in worship, puppeteering, and other large group activities during large group time!
This 30-lesson curriculum, along with review lessons, works perfectly with a typical school year. A review template is included if additional lessons would like to be added. If a review lesson is done every 5 weeks, this curriculum will be a 36-lesson curriculum, the typical length of a school year. Review lessons are highly recommended to reinforce each lesson!
If each of the character lessons A-Z (not including the three bonus lessons) are taught for two weeks using the Review Lesson template for the second week, the curriculum will last a full calendar year!
For every curriculum purchased, one will be distributed to a ministry in need around the world!
Please contact us for more information about translating our curriculum into other languages.